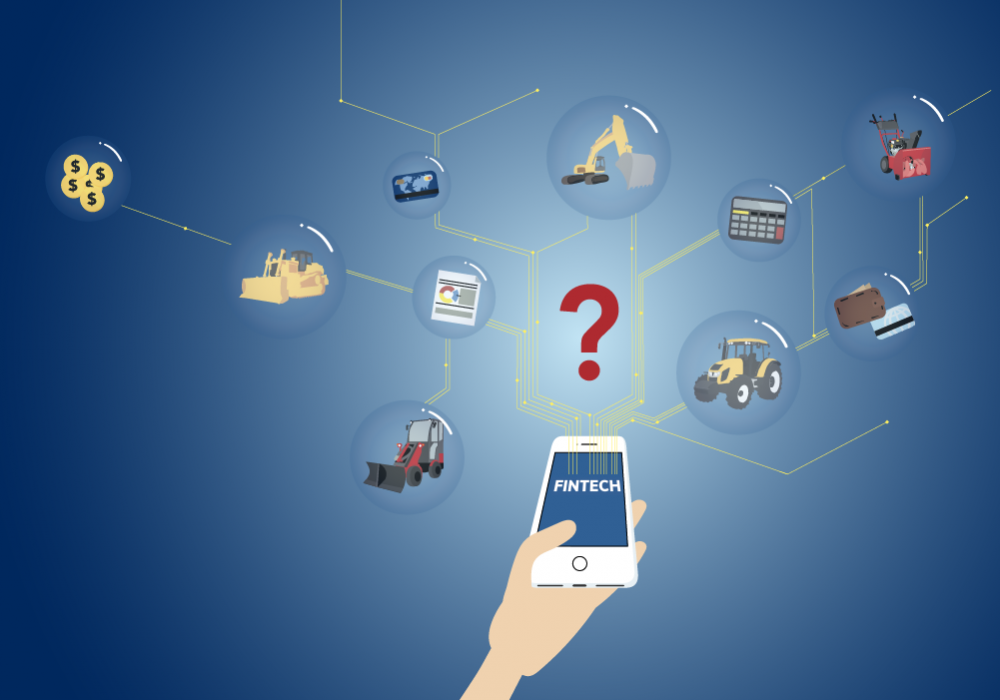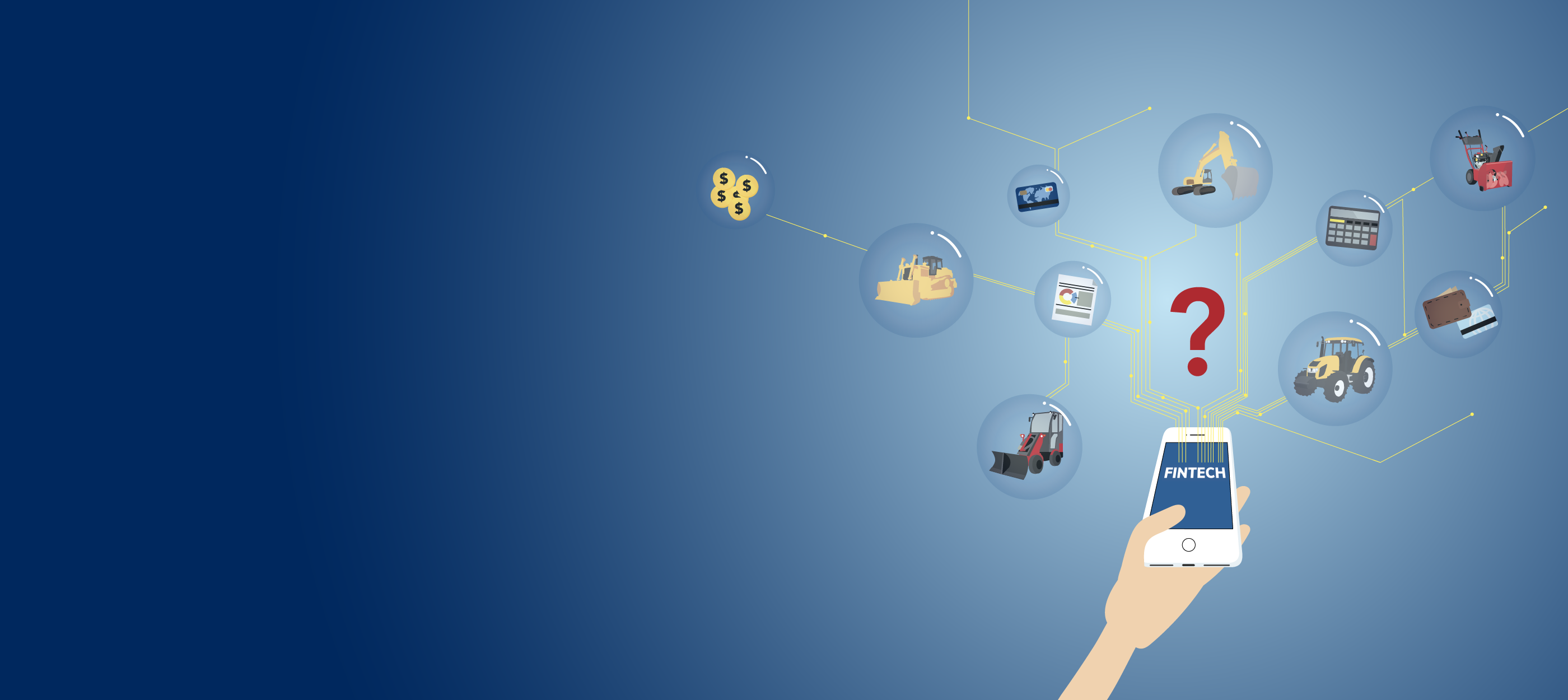 Fintech: an opportunity or a threat?

By: Michael Dubowec, President and CEO
Around the world, fintech is disrupting the financial services industry. But is it really a disruption or a welcome change?
I'm a big believer that competition is always healthy and forces companies to change and strive to be the best. An inability to change might mean an established lender becomes a legacy company that could soon be out of the marketplace.
CWB National Leasing is embracing fintech's presence and learning from it in several areas. Through measuring data, fintechs understand what drives consumer behaviour. Their operations are small and flat, so they're agile and quickly adjust operations to meet customer needs. They started building their companies based off of a digital experience, so for them, digital comes first. All of these things create a culture shift where consumers expect personal advice in real time. It's an exciting transformation.
CWB National Leasing is setting the foundation for success by taking a systems-based approach to innovation. We're training people on how to foster meaningfully unique ideas and build the business case to get them approved. A business transformation team then takes the ideas and figures out how to make them a reality. This allows grass-roots ideas to gain traction, which engages employees. They get to create the change, rather than being told to change.
One of these projects is a rewrite of our internal core technology system. Over the years, we added subsystems that didn't talk to each other, causing silos between departments. For a legacy company, this could become inefficient and unmanageable. Our solution: we're rewriting our system and eliminating the sub-systems. This allows for automation, saving the customer time and our company money. Employees' days will become more meaningful, instead of manual, as they'll wear many hats to support customers at each stage of their CWB National Leasing experience versus being stuck in one role. Overall, we'll increase efficiency as we eliminate silos. If you don't grow, you die. But today and in tougher economic times, if you don't become more efficient in your processes and enhance the customer experience, you'll also die.
Externally, we're striving to be an invaluable partner for equipment dealers – one they can't live without. For example, National Leasing Interactive creates a digital quoting experience for equipment dealers while allowing us complete control over variable pricing that we've customized to each dealer. Before, we had no hard data on how often dealers quoted customers and they easily could've used out-of-date rates. There's now complete transparency we can control at the click of a button. Dealers, on any handheld device, can also access customer information, including portfolio management capabilities. Our dream is to provide equipment dealers the ability to have all lease transactions and activities at their fingertips, from sales origination, to adjudication, to complete fulfillment and payment.
Amongst all of this, lenders can't forget about the end-user – especially because that's where fintech's focus lies. Our equipment dealer network is our core business, but there's an opportunity to better satisfy the end user in that sale. For example, we mapped our end users' customer journey, identifying each touch point along the way. The next step is to optimize and streamline these touch points, ensuring the customer has what they need to do business with CWB National Leasing easier and faster than ever before. If we can provide a better customer experience for our end user customers, it will have a ripple effect and better support our diverse equipment dealer network.
While we all dream of a digital lease experience that takes place in seconds, I recognize regulators play an important role in the future of our economy. I hope regulators adapt current legislation or create a new framework that allows for co-operation between fintech start-ups and established finance companies. That means finding a balance between ensuring a stable economy and keeping up with consumer preferences for doing business online. For example, what's more reliable: an algorithm based on hard data proving someone's credit worthiness or an analyst sifting through mountains of information and then making a personal judgement call? There's a reasonable medium while ensuring financial institutions make sound decisions.
Would financial institutions be where we are today if fintechs didn't force us to improve? Would we still invest more in technology than ever before? Would we still create fulfilling careers for employees instead of button-pushing jobs? Would we still make decisions based on data instead of a gut feeling? Would we still listen to the customer and respond to their needs? I'd like to think so, but who knows? Instead, I'm going to thank fintech and say, "Bring it on."
This article originally appeared on page 22 of the Canadian Equipment Finance Magazine Spring 2017 edition.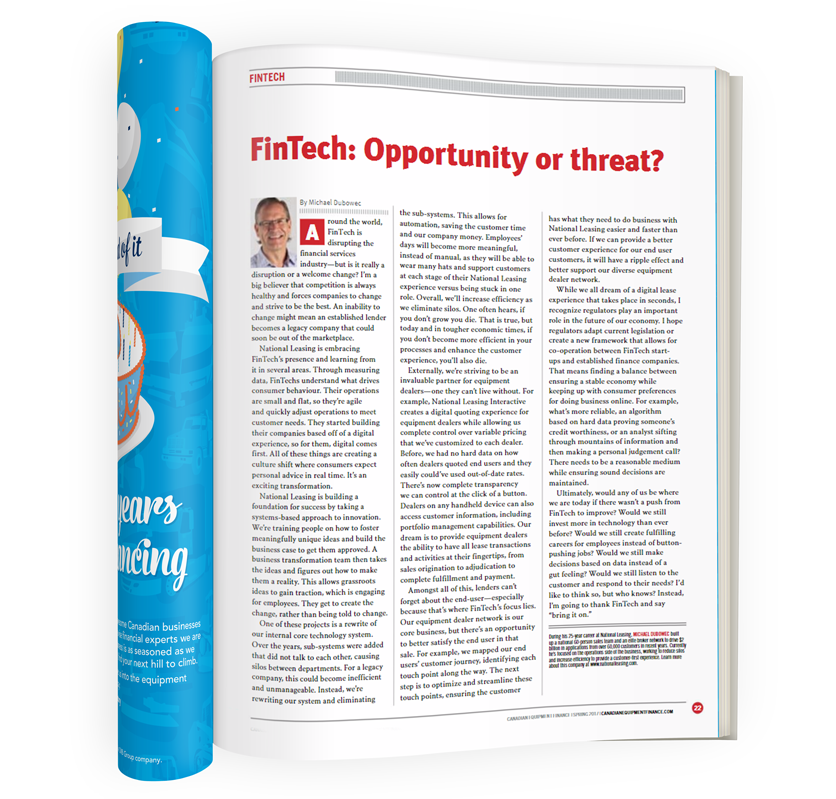 Financing made easy.
Contact us and we'll call you right away