Sylvia Harnett
Account Manager
We could go on forever listing all the equipment we lease. Instead, if you're not sure we lease what you're looking for, give us a call; chances are we'll work something out.
What Sylvia can help you with
Commercial Equipment Leasing in Newfoundland and Labrador
What you should know about Sylvia
Sylvia is a consummate Newfoundland and Labrador equipment leasing pro. Sure, her Leasing 101 Expert title may be self-appointed, but it couldn't be more accurate.
So what does this mean for you? It means Sylvia will work locally to get your business the equipment it needs to grow, all while she tailors lease payments to match your revenues, saving your cash and lines of credit for other opportunities.
When Sylvia isn't leasing the latest and greatest equipment, she's exploring the Newfoundland Eastern Trails, tending her garden and greenhouse or spending time with family during their weekly dinners.
To support her community, Sylvia donates to a number of local causes.
What customers say about Sylvia
"CWB National Leasing's quick approval time and documentation follow up has helped us increase our sales in a very competitive market. It is also beneficial to have a local presence of a leasing specialist like Sylvia who understands our customers' needs and can offer specific financial solutions."
Doreen Hamlyn
President & Owner
H&H Auto
Read more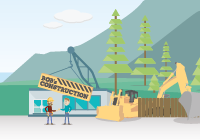 Ready to supercharge your business and increase your profits? You've come to the right place.