Mark Sutton
Account Manager
We could go on forever listing all the equipment we lease. Instead, if you're not sure we lease what you're looking for, give us a call; chances are we'll work something out.
What Mark can help you with
Construction and Transportation, Commercial, Industrial and Medical Equipment Leasing in the Northern Greater Toronto Area
What you should know about Mark
Mark has been in the leasing game for a long time, since 1993. He honed his financial expertise and then started with CWB National Leasing a decade later. Now, he's bringing awesome business-growing leasing solutions to customers in the Northern GTA.
Mark's a chameleon of sorts, too, leasing most any type of new or been-around-the-block equipment your business needs. And thanks to his expert communication skills, he'll ask the right questions and then tailor a cash flow-friendly payment structure unique to you.
A former competitive fastball player with provincial, national and World Series of Fastball titles under his belt, Mark feeds his sports addiction through baseball and hockey rec leagues. To escape the hustle and bustle of Canada's most densely populated area, he mountain bikes in the Ontario back country.
Mark donates to Autism Ontario and sports organizations to support his local Barrie, Ontario community.
What customers say about Mark
"We have been dealing with CWB National Leasing and Mark for the past four years. Mark is very professional, timely, and reliable, and he's also very quick to react if a problem arises. He definitely works hard for his vendors."
Bob Lacey
THM Group
"I am definitely a fan of dealing with Mark. In my past experiences, the process has always been quick, easy and he's always available from start to finish. Mark and I will definitely be working together on future deals. "
Nathan Martin
Contractors Rental Supply
"I really appreciate all of Mark's help. He has always looked after our needs exceptionally well, and to top it off, his pleasant disposition makes doing business with CWB National Leasing an absolute pleasure."
Chris Cove
Cove Dentistry
Read more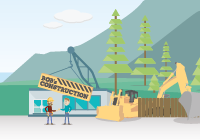 Ready to supercharge your business and increase your profits? You've come to the right place.