Jerrid Pasitney
Account Manager
I'm here to help you grow your business with equipment leasing. You'll love holding onto your cash and lines of credit. Let's talk!
What Jerrid can help you with
Golf Course Equipment, Agriculture Equipment and Medical Equipment in Alberta and Saskatchewan
What you should know about Jerrid
Jerrid is a classic case of customer-turned-advocate. During his years operating a golf course, he used CWB National Leasing to finance the golf cars and landscaping equipment he needed to be successful.
Now he stands on the other side of the green, helping business owners get the financing and top-notch service we're known for.
Jerrid has lived on a farm for the last 20 years, so he's no stranger to the needs of the agriculture industry either. He can speak your language and help you get the best value from your equipment.
Jerrid is a family man through and through. In his free time, Jerrid spends time golfing — a lot. Three of his kids have earned competitive golf scholarships, and you can find the Pasitney family on the course nearly every day in the summer.
Since sports run so deep in his family, Jerrid makes a point to donate to community sports initiatives live Canadian Tire Jumpstart and KidSport Canada to spread the love of the game.
Read more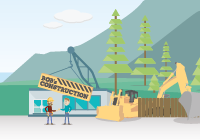 Ready to supercharge your business and increase your profits? You've come to the right place.