Same company, new name, expanded services - and a new look!

Martin Ross
Account Manager
Your equipment leasing experience should be easy, fast, and hassle free. It's why you'll love working with us and our industry-leading service standards.
What Martin can help you with
All Types of Equipment Leasing for business owners across Canada
What you should know about Martin
Martin gets Canadians the new and used equipment they need with leases tailored to meet their unique cash flows. This eases financial pressure on the buyer's wallet and increases purchasing power, making equipment upgrades and add-ons affordable.
Martin has worked for CWB National Leasing since 2000. He started as a collector and then gained a deft understanding of the equipment leasing process when he shifted gears to our credit department. At the beginning of 2014, he jumped to sales, bringing his past experience with him along the way.
In his spare time, he hangs out with his daughter and sharpens his wit with crossword puzzles.
Read more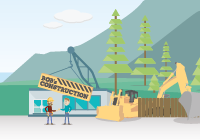 Ready to supercharge your business and increase your profits? You've come to the right place.