Pierre-Olivier Bouchard
Account Manager
Your equipment leasing experience should be easy, fast, and hassle free. It's why you'll love working with us and our industry-leading service standards.
What Pierre-Olivier can help you with
Transportation, construction, forestry and agriculture equipment in Quebec.
What you should know about Pierre-Olivier
Pierre-Olivier is a huge proponent of CWB National Leasing's "it's possible" motto. He'll work with your company, no matter its financial situation. He'll also help equipment dealers offer financing for their customers.
Pierre-Olivier knows equipment. That means he'll help you choose the right type of equipment for your business before tailoring the perfect lease to match your cash flow needs.
When he's not structuring equipment financing for Quebec businesses, Pierre-Olivier golfs, roots for the Toronto Blue Jays (he's a huge baseball fan) and spends time with his extended family, which has over 200 members.
To give back to his community, Pierre-Olivier and his wife give Christmas gifts to underprivileged kids at a Quebec youth centre.
Read more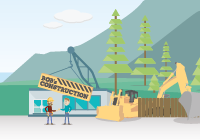 Ready to supercharge your business and increase your profits? You've come to the right place.