Stéphane Turgeon
Account Manager
With our no-wait funding, you'll receive the latest and greatest toys, or... we mean equipment, when you need it.
What Stéphane can help you with
Commercial Equipment Leasing in Eastern Quebec
What you should know about Stéphane
Stéphane's boundless energy and enthusiasm means he'll work non-stop to tailor that perfect commercial equipment lease for your business.
He has over 20 years of experience in sales, meaning he's a savant when it comes to building rock solid customer relationships. Simply, he gives customers the time they deserve.
And while equipment leasing is Stéphane's game now, it wasn't always. Fun fact about him: at age 10 he received an award from the Quebec Lieutenant Governor as the best Quebec City hockey player for his age. He has since hung up the old blades and instead golfs in his spare time.
To support his community, Stéphane donates to local hockey teams and fundraisers. Recently, he donated to Leucan, an organization committed to helping cancer-stricken children and their families.
Read more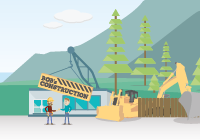 Ready to supercharge your business and increase your profits? You've come to the right place.