Tim Falk
Account Manager
Tired of bending over backwards, conforming to the other guy's lending rules? We'll work with you to develop a leasing term, payment amount and schedule that meets your business's needs.
What Tim can help you with
Agriculture, Commercial and Medical Equipment in Saskatchewan, Manitoba and Ontario
What you should know about Tim
Growth and success are Tim's passions at CWB National Leasing. He loves getting Canadians the latest and greatest equipment that will help their businesses grow and succeed.
He's been with the company since 2008, sharpening his skills in various sales roles and building customer relationships along the way. And it's no wonder customers like him. His "do unto others as you would have them do unto you" mantra means customers get helpful and honest equipment leasing advice to match their business's needs.
When he's not using leasing to boost the buying power of Canadian businesses, Tim's playing hockey, golfing or spending time with his family.
What customers say about Tim
"We have dealt with Tim Falk and CWB National Leasing on three separate occasions with leasing transactions. We were thoroughly pleased with the professionalism shown by Tim through this process. We felt very comfortable with him. He has a very pleasant mannerism, and we sensed his integrity in doing business, thus a bond of trust has developed between us. We are highly satisfied repeat customers, and recommend dealing with Tim for your leasing requirements."
Roger and Joan Lanoie
RJ Lanoie Ranch, Inc.
Read more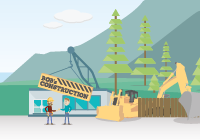 Ready to supercharge your business and increase your profits? You've come to the right place.