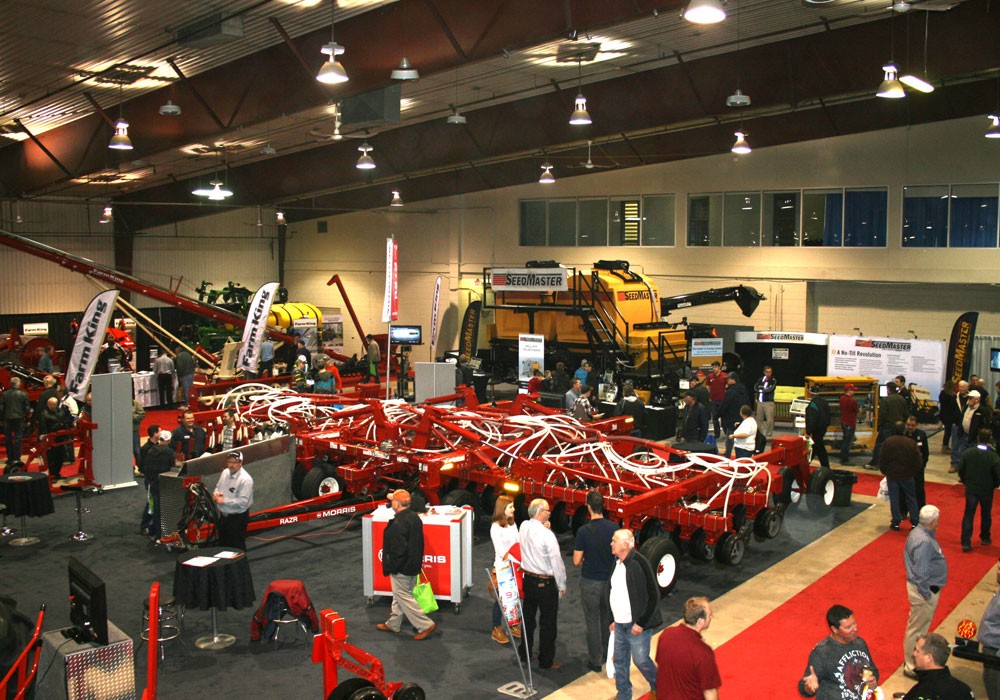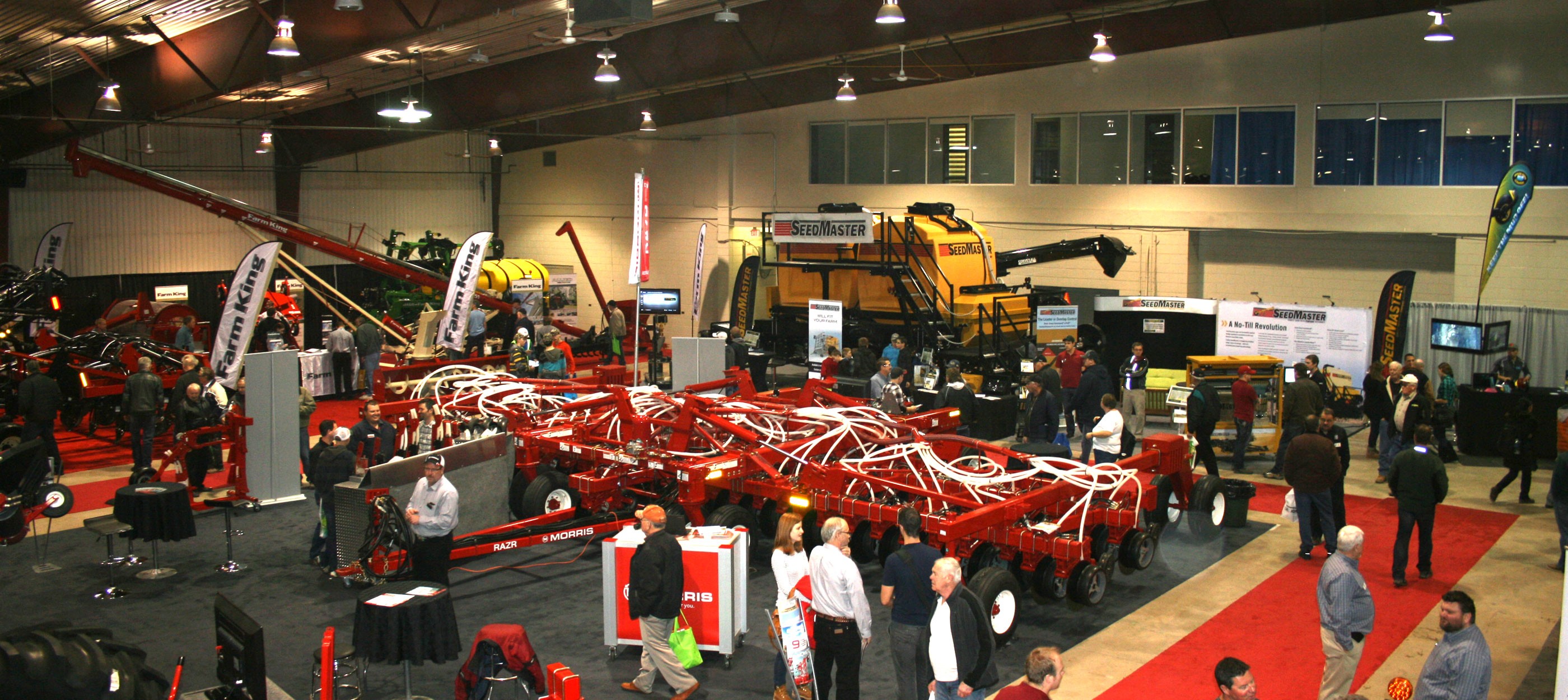 9 trade show best practices for your small business

By: Julie Noschese, Trade Show Coordinator
In our first entry in the CWB National Leasing Trade Show Series, Trade Show Coordinator Julie Noschese shares her comprehensive show planning guide.
Whether you're heading to your first show or you're a show vet, her best practices will give you everything you need to know to pull off a successful booth.
Trade shows are a great way to gain exposure for your business and earn new customers but they can be daunting. There are countless hours of planning before the show, the huge energy drain of the show itself and then the difficult task of evaluating your booth's success afterward.
CWB National Leasing has exhibited at trade shows for decades. Now, we exhibit at 70-80 trade shows each year, and we still spend a lot of time trying to improve our show strategies to achieve our goals. You might not exhibit at that many shows, or maybe you've never exhibited before. That's OK. We're here to help you through the process, from pre-show planning to post-show evaluation, so your next trade show experience will be a success.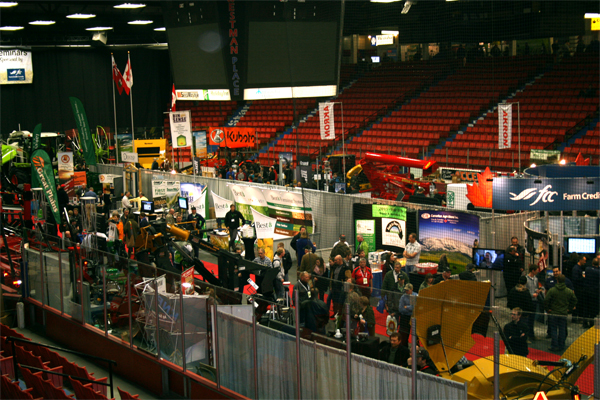 Before the trade show
1. Establish a goal
Without a doubt, the first thing you should do before any trade show is set a goal. You wouldn't drive your car blindfolded and you shouldn't spend money to rent a trade show booth without a goal and strategy either. Some commons goals are:
Increase brand awareness
Earn a certain number of leads
Achieve a certain sales volume at the show
With a goal in mind, you can start developing your strategy to achieve it.
2. Research and pick a trade show
Pick a trade show that's well established and has a large following. Trade shows generally aren't cheap, and you don't want to spend money on a show that has poor turnout.
Also, take a peek at the show's exhibitor list before registering. Are there any networking or partnership opportunities with some of the other business that have committed to attend?
3. Plan your trade show
You'll need to plan a lot leading up to the show. It's not as simple as just showing up and speaking to visitors. To pull off a professional-looking booth, you'll need to consider the following:
Booth location
You'll compete for visitors' attention wherever you're located on the trade show grounds, but at best, you'll want a booth located away from direct competition for obvious reasons.
Branded Material
Consider the visitor experience for those at your booth. What kind of branded materials will help advance your goal? You'll need some sort of display, like a pull-up or flag banner. Supporting materials, like handouts promoting your product, will help and you'll need some way of taking down contact information for those who are interested in your product (this can be as simple as a name and phone number in your cell phone or a little more in-depth with a lead generation form visitors will fill out). You'll also need some sort of attraction that pulls visitors to your booth. More on that in a second.
Rental Furniture
You'll need tables and chairs in your booth. Usually, the show provides some pieces of furniture with your booth rental, but if you need more, let the show organizers know in advance and be prepared to spend a little extra money.

During the trade show
4. Include a booth attraction
According to Jim Obermayer & Matt Hill from the 2015 Exhibitor Trade Show, show visitors spend an average of 15 seconds at each booth. At the show, you'll be surrounded by tens, maybe even hundreds, of your competitors, so you'll need something exciting that will attract show visitors. You can run a contest, host a game, give a prize away for free – anything will work but your attraction must make your booth memorable. Visitors should see your booth and immediately identify what's in it for them.
5. Be energetic
Trade shows can be exhausting for exhibitors. You're on your feet and interacting with show visitors all day. It's easy to sit around and hope visitors will come your way, but you'll draw more people by standing and engaging visitors as they walk by. And don't be afraid to call them over. They're at the show for a reason. With that said…
6. Make a human connection
You're at the trade show to achieve a specific goal and making human connections with visitors will help. Think of it from a visitor's perspective: they've probably been sold to by every booth all day. Talking to them about something other than purchasing a new product or trying a new service could be a refreshing change.
At trade shows we've attended, we've used simple conversation starters like, "How's your day? What's been the best part of the show so far? Where are you from?" Honestly, just be friendly and speak to each visitor like they're the most important person who has stopped by your booth.
7. Use social media
Trade show organizers generally promote their show on social media leading up to and during the event using a hashtag on Twitter and Instagram or using an event page on Facebook. Promote your booth over your social media channels and mention or tag the trade show using the show's hashtag. You'll reach the show's followers and drum up more interest for your booth.
Some posting ideas include:
Pictures of your booth and your promotions
Interesting demonstrations from the show
Commenting on posts from other social media users at the show
Whatever you decide to post, make sure it follows your existing social media strategy.
To find your trade show on social media, visit the show's website and look for Twitter and Facebook buttons on the homepage.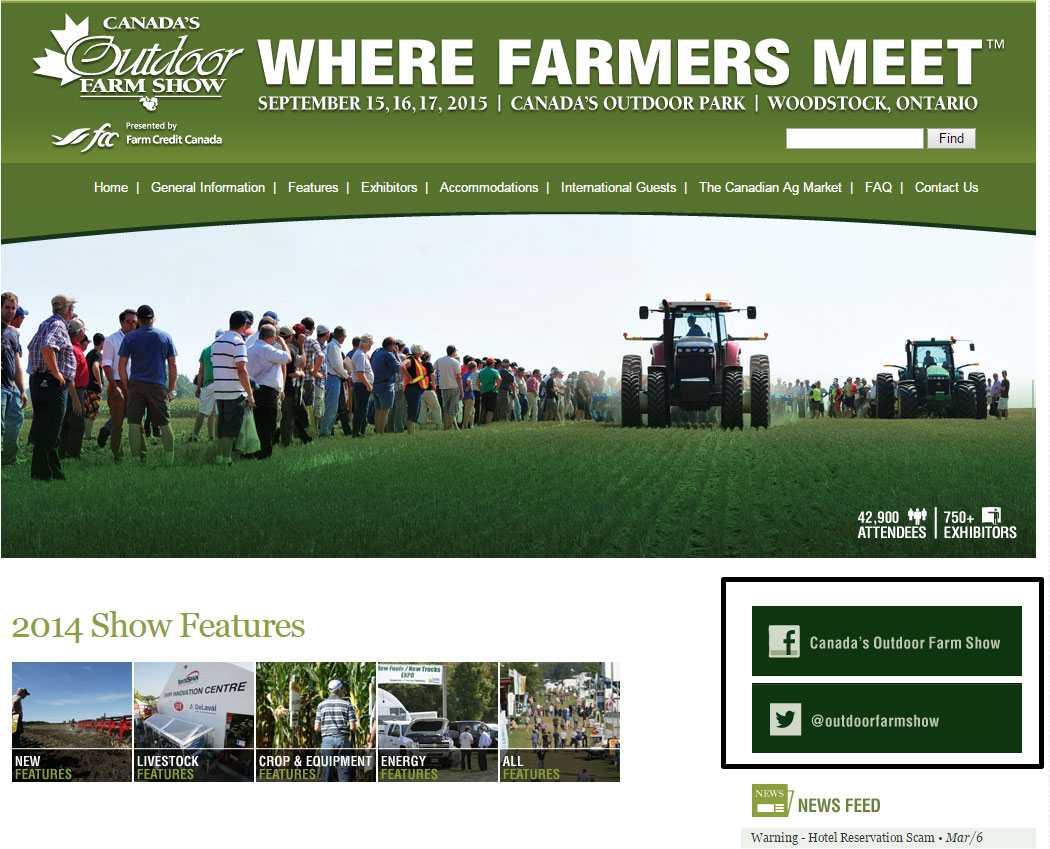 Here's an example from a website home page of a trade show we attend,
Canada's Outdoor Farm Show.
After the trade show
8. Follow up with leads
Don't let all the hard work you put in at your trade show fall to the wayside. If you earned leads during the show, follow up with them as soon as possible once the show is finished. Whether through email or phone, have an elevator pitch ready that you can recite and move the lead from the prospect phase to the customer phase.
You may not hear from them during your post-show contact, but that doesn't mean they don't read your emails or hear your phone messages. Send regular communications your leads' way and keep your business top of mind.
9. Calculate your return on investment
This is one of the hardest parts during the trade show process but the next most important after goal setting. Your return on investment (ROI) will determine if you spent your time and money well.
Sales volume ROI
Calculating ROI on a total sales volume goal during a show is fairly simple. You'll know your sales and costs as soon as the show is finished. With lead generation or brand awareness goals, your ROI gets a little trickier.
Lead generation ROI
Leads may take months or a year after your trade show to make a purchase. It's entirely possible your ROI will stink until your customers are finally ready to buy your product or service. Make sure you're tracking that lead life cycle, whether through marketing automation software or an Excel spread sheet.
Brand awareness ROI
Return on investment for a brand awareness goal is even more difficult to calculate. The trick here is finding something tangible to measure. As an example, let's say you own a store and you've calculated that every person who visits your store (whether they make a purchase or not) is worth $10 to your business. To measure your trade show brand awareness ROI, you would count the total number of store visits starting a few months before your trade show and then compare store visits for a few months after your trade show.
It could look something like this:
Before the Show
Store visits: 500
Value per visit: $10
Total value: $5,000
After the Show
Store visits: 750
Value per visit: $10
Total value: $7,500
Total value from show: $2,500 ($7,500 - $5,000)
Trade show cost: $1,500
Return on investment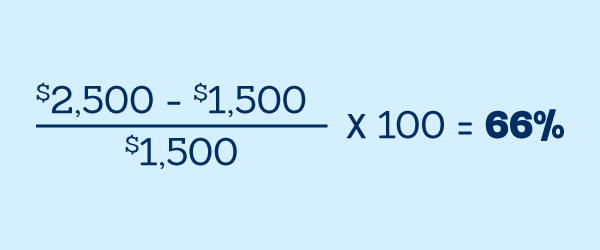 In the above example, the trade show would've resulted in a ROI of 66 per cent – definitely a worthwhile investment.
In reality, it will likely take longer than a few months to measure your brand awareness ROI since you're literally trying to measure how many people are aware of your business. For more perspective, you could also monitor an increase in social media followers after the show, incoming calls or referrals. A good idea is to learn where your customers communicate and focus on those channels.
Your next trade show
Don't let your next trade show intimidate you. The amount of work might seem overwhelming but with a clear goal; a solid plan for before, during and after the show; and an accurate way to calculate ROI, you can make major strides to grow your business.
Have a trade show tip that's not on the list? Leave your tip below in the comments section for others to see.
Financing made easy.
Contact us and we'll call you right away