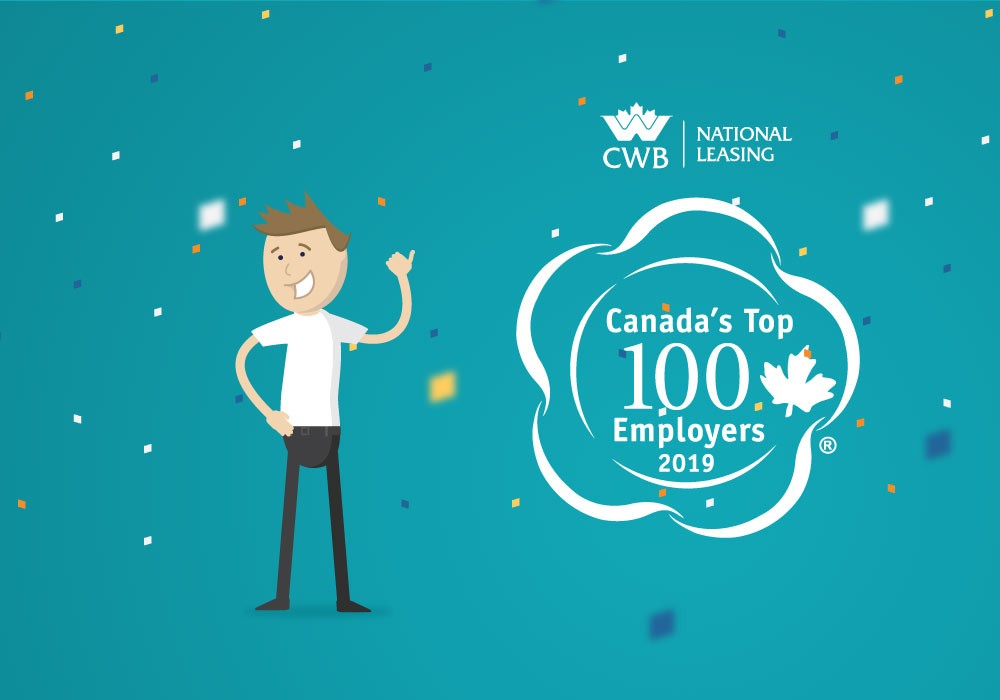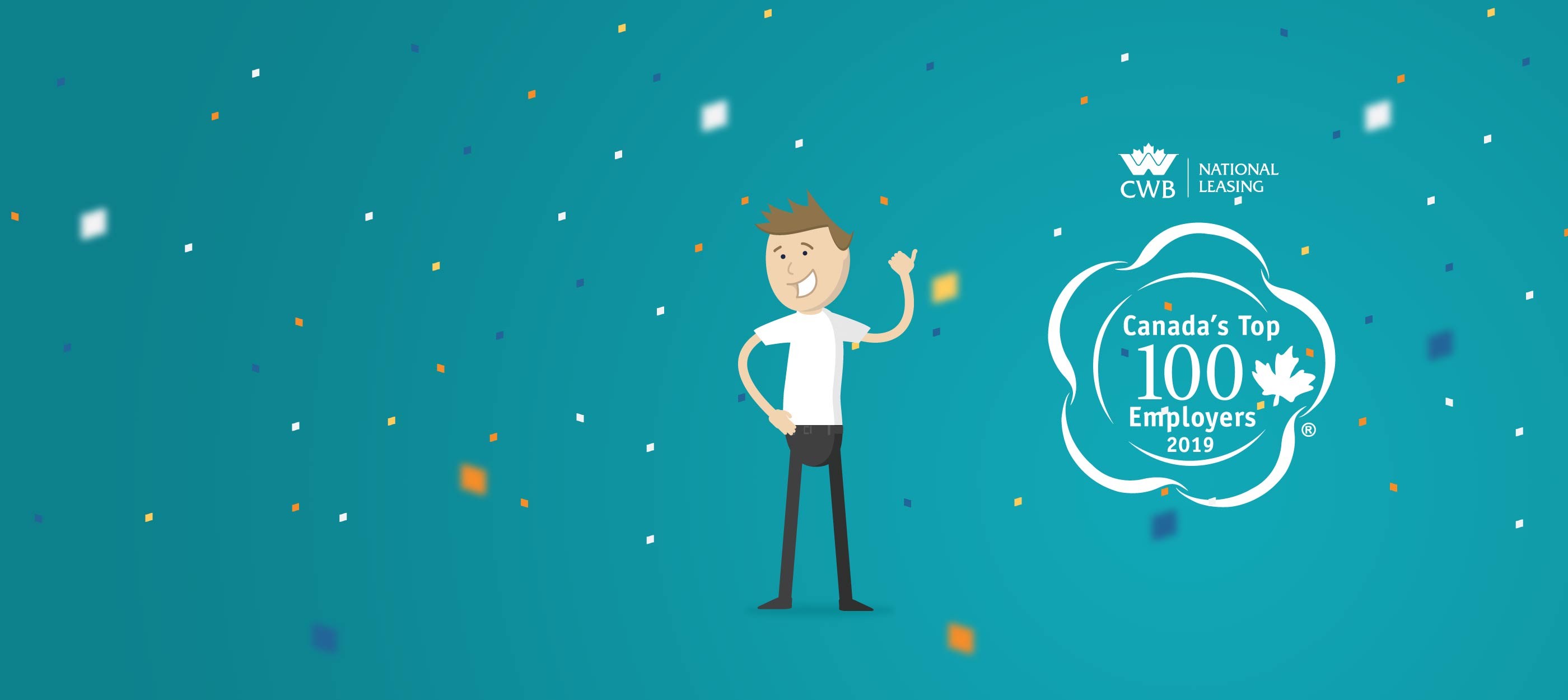 CWB National Leasing named one of Canada's Top 100 Employers

By: CWB National Leasing
Mediacorp Canada Inc. recognized CWB National Leasing as one of Canada's Top Employers for the third year in a row.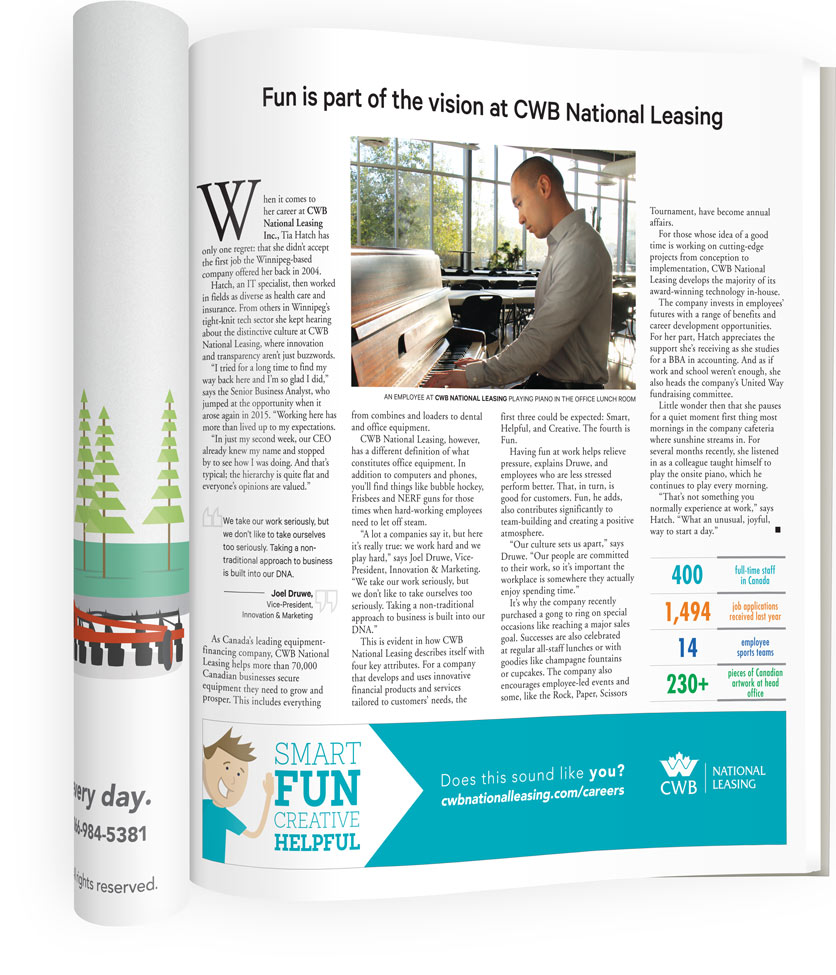 Below is the Top Employer feature on CWB National Leasing, published in a magazine insert circulated in the November 9, 2018 Globe and Mail.
---
When it comes to her career at CWB National Leasing Inc., Tia Hatch has only one regret: that she didn't accept the first job the Winnipeg-based company offered her back in 2004.
Hatch, an IT specialist, then worked in fields as diverse as health care and insurance. From others in Winnipeg's tight-knit tech sector she kept hearing about the distinctive culture at CWB National Leasing, where innovation and transparency aren't just buzzwords.
"I tried for a long time to find my way back here and I'm so glad I did," says the Senior Business Analyst who jumped at the opportunity when it arose again in 2015. "Working here has more than lived up to my expectations.
"In just my second week, our CEO already knew my name and stopped by to see how I was doing. And that's typical; the hierarchy is quite flat and everyone's opinions are valued."
As Canada's leading equipment-financing company, CWB National Leasing helps over 70,000 Canadian businesses secure equipment they to need to grow and prosper. This includes everything from combines and loaders to dental and office equipment.
CWB National Leasing, however, has a different definition of what constitutes office equipment. In addition to computers and phones, you'll find things like bubble hockey, Frisbees and NERF guns for those times when hard-working employees need to let off steam.
"A lot a companies say it, but here it's really true: we work hard and we play hard," says Joel Druwe, Vice-president, Innovation & Marketing. "We take our work seriously, but we don't like to take ourselves too seriously. Taking a non-traditional approach to business is built into our DNA."
This is evident in how CWB National Leasing describes itself with four key attributes. For a company that develops and uses innovative financial products and services tailored to customers' needs, the first three could be expected: Smart, Helpful, and Creative. The fourth is Fun.
Having fun at work helps relieve pressure, explains Druwe, and employees who are less stressed perform better. That, in turn, is good for customers. Fun, he adds, also contributes significantly to team-building and creating a positive atmosphere.
"Our culture sets us apart," says Druwe. "Our people are committed to their work, so it's important the workplace is somewhere they actually enjoy spending time."
It's why the company recently purchased a gong to ring on special occasions like reaching a major sales goal. Successes are also celebrated at regular all-staff lunches or with goodies like a champagne fountain or cupcakes. The company also encourages employee-led events and some, like the Rock, Paper, Scissors Tournament, have become annual affairs.
For those whose idea of a good time is working on cutting-edge projects from conception to implementation, CWB National Leasing develops the majority of its award-winning technology in-house.
The company invests in employees' futures with a range of benefits and career development opportunities. For her part, Hatch appreciates the support she's receiving as she studies for a BBA with a major in accounting. And as if work and school weren't enough, she also heads the company's United Way fund-raising committee.
Little wonder then that she pauses for a quiet moment first thing most mornings in the company cafeteria where sunshine streams in. For several months recently she listened in as a colleague taught himself to play the onsite piano, which he continues to play every morning.
"That's not something you normally experience at work," says Hatch. "What an unusual, joyful, way to start a day."
Financing made easy.
Contact us and we'll call you right away