National Leasing Interactive helps lifts CanLift's sales
CanLift Equipment Ltd. started from the ground up.
The aerial lift equipment dealer began as a start-up seven years ago but grew exponentially thanks to its crawl-walk-run business model. More specifically, the company's growth looks like this:
Crawl
Canlift started with only five machines. It sold three and then bought a few more.
Walk
It sold more machines and expanded inventory. Rinse and repeat for seven years as North American lift manufacturers took notice of the company's growth.
Run
Today, it has over 600 new and used lifts available for purchase or rent and is a Tier 1 dealer, a trusted accreditation in the construction industry.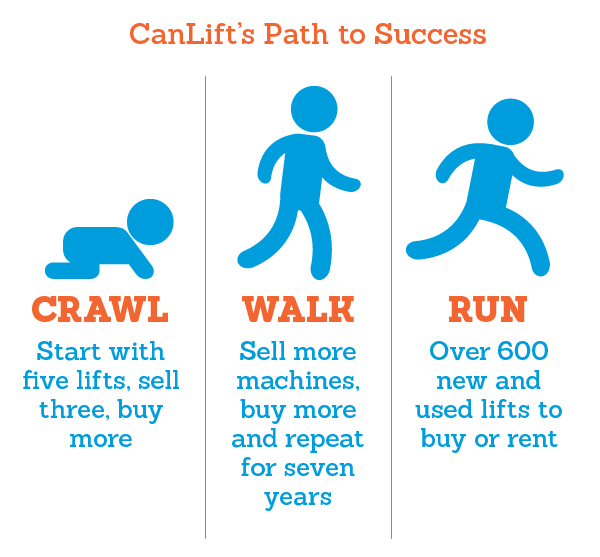 And although its impressive history lifted CanLift (sorry for the pun) to its current position, the company has lofty ambitions (sorry, really) to drive growth to new heights (I promise, last one). It wants to expand its lift repair service and boost sales – a challenge since a weakened Canadian dollar means CanLift must either sell its U.S.-manufactured lifts for more or carve into sales margins.
Canlift's solution to the decreased dollar: offer equipment financing to increase customers' purchasing power. The company's service propelled it to top tier status in the aerial lift industry so it's only natural CanLift demanded equal service from its financing partner.
"We had a bunch of different financiers in; they made it hard, painful and awkward for our customers," said CanLift Vice-president, Sales Geoff Grant. It wasn't until Geoff met with CWB National Leasing that he met a financial partner that reciprocated his service levels.
"It was like other financial companies were rubbing sticks together and CWB National Leasing was splitting the atom," said Geoff. "They had really timely quotes and kept everything simple and easy."
To make financing even easier for its customers, CanLift uses National Leasing Interactive. Now, Geoff quotes in less than 30 seconds and pulls instant reports on his finance customers.
"The fact that I can track everything and visually look at quotes I've sent is great," he said. "It helps me follow up with customers and move them closer to a buying decision."
Geoff has already sent over 45 quotes in the first few months of using the online tool. He said he expects his finance sales will climb as more customers see affordable quotes.
"Using National Leasing Interactive is great. The quotes are a simple, one-page report and it's absolutely painless and professional working with the company," said Geoff. "It's what this industry needs."
Financing made easy.
Contact us and we'll call you right away