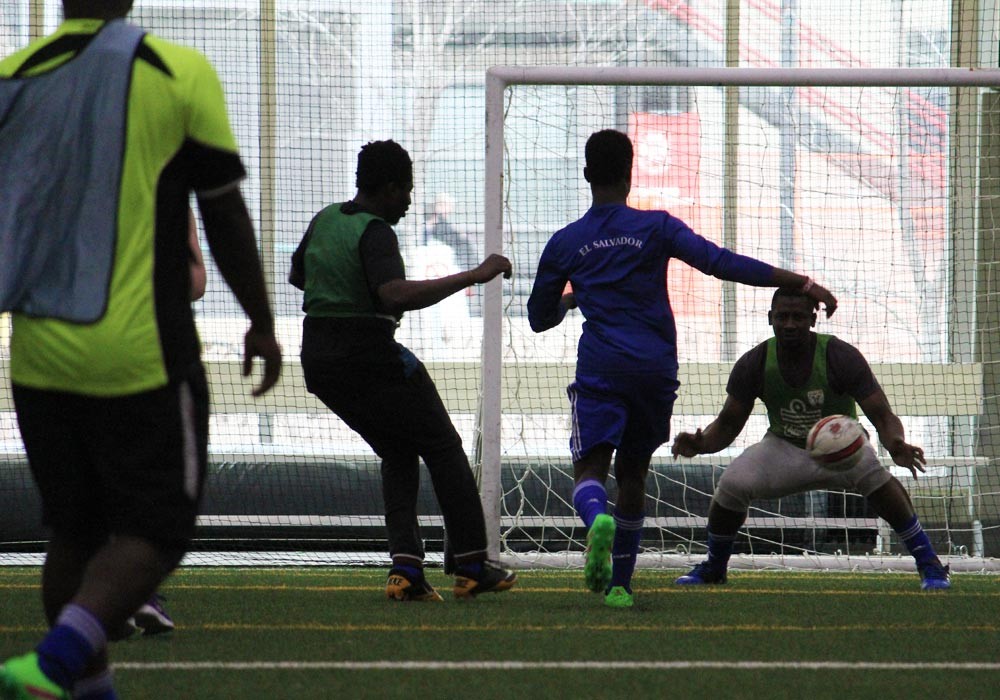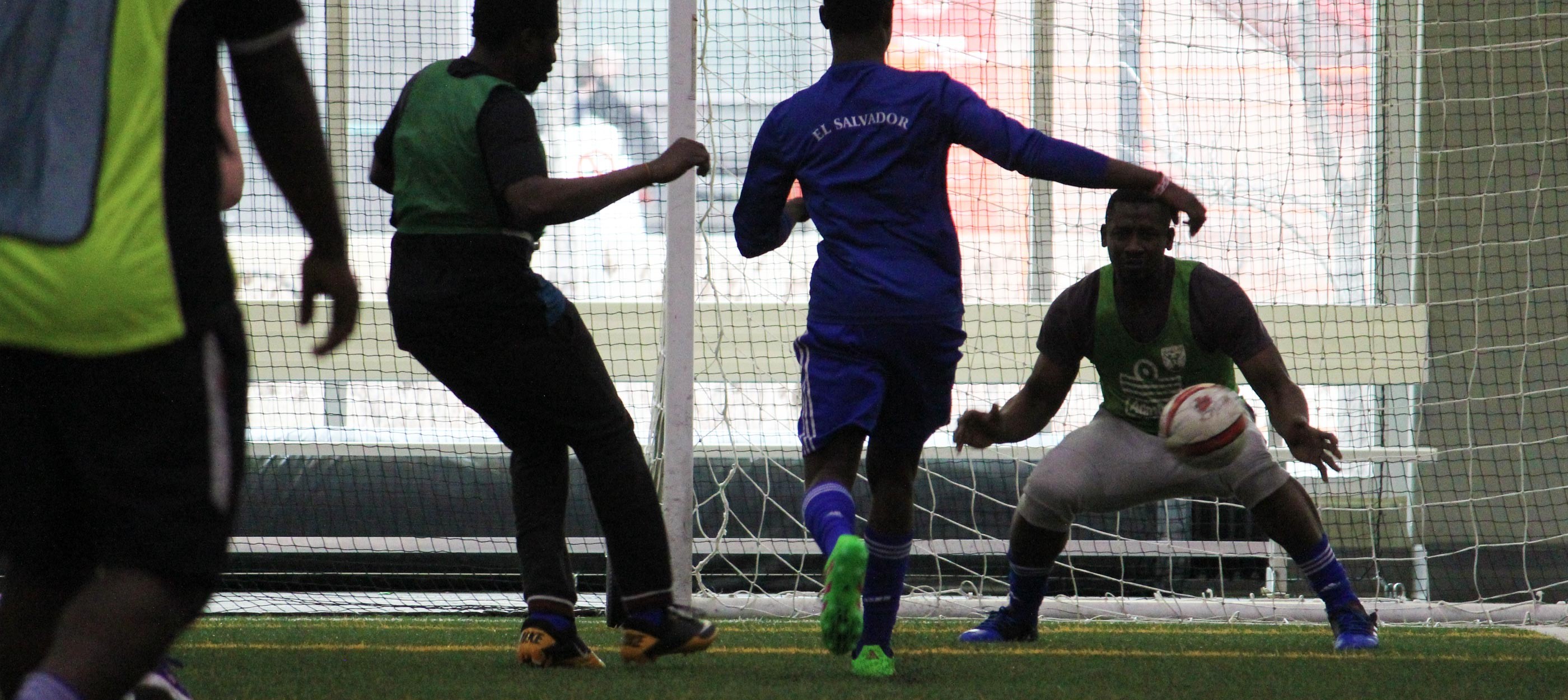 Helping refugees in Canada through sport

By: Janet Seniuk, Public Relations Coordinator
CWB National Leasing's GenNext pod teamed up with 25 refugees from Somalia, Ghana and Syria this past weekend to show them a warm Winnipeg welcome over a game of soccer.
"After hearing about all the refugees walking across the border these past few months, and the dire situations they were coming from, we wanted to do something to help," says Ryan Lobo, CWB National Leasing GenNext member. "United Way put us in touch with Canadian Muslim Women's Institute to talk about ways we could make a difference for newcomers in need, and we decided to organize a donation drive and a soccer game."
Canadian Muslim Women's Institute (CMWI) is an inclusive Muslim-based non-profit organization in Winnipeg that provides programming and services to empower newcomers and their families.
"All immigrants are interested in meeting new people and learning more about their new home," says Yasmin Ali, Volunteer Board President, CMWI. "Sometimes, apprehension about how to act and lack of language can be barriers for communication."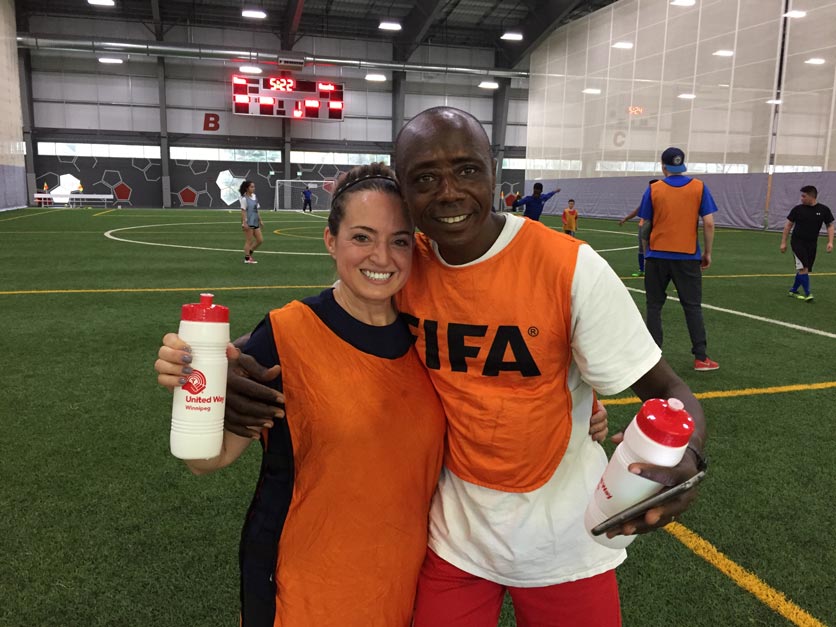 CWB National Leasing employees welcome newcomers in need with a friendly game of soccer
Using sport as a tool to break barriers, CWB National Leasing and CMWI came up with the idea for the soccer game. Many of the refugees working with CMWI had been playing soccer with each other since arriving in Winnipeg, but this would give them a chance to interact with local Winnipeggers.
A few days before the game, CWB National Leasing learned a number of the refugees had been playing barefoot, because they couldn't afford cleats, so we sent them shopping.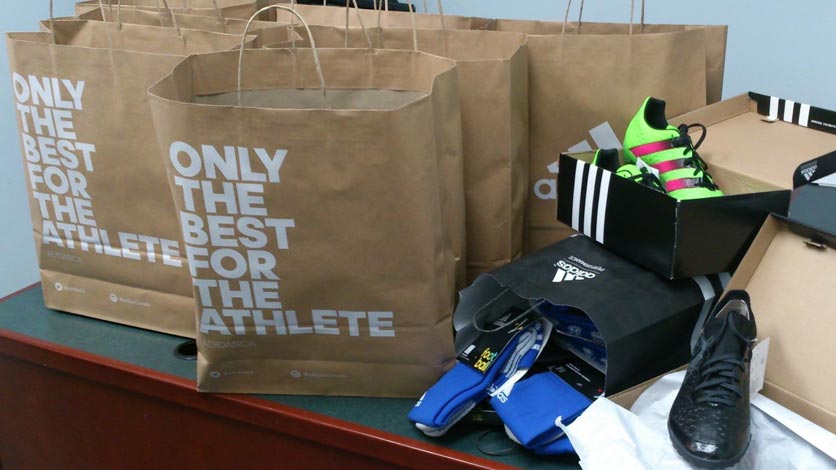 CWB National Leasing donates new cleats to refugee soccer players
"I can't remember the last time I went shopping with anyone as excited as these guys. They knew precisely what they wanted, and that included not paying full price," says Laurel Martin, Executive Director, CMWI. "As we left the store, we giggled in the parking lot for a while, marveling at all the bags of shoes. I don't think any of us had been on that kind of shopping spree before."
Game day was on Saturday, April 8 at Axworthy Health & RecPlex. GenNext members from CWB National Leasing, PwC Canada and Winnipeg's GenNext Council laced up their cleats to join a group of excited newcomers on the field.
"We decided to mix up the teams," says Ryan. "And it's a good thing we did, because we wouldn't stand a chance playing against them; they were really good! It also gave us the opportunity to share some memories of playing and celebrate goals together. It was a lot of fun."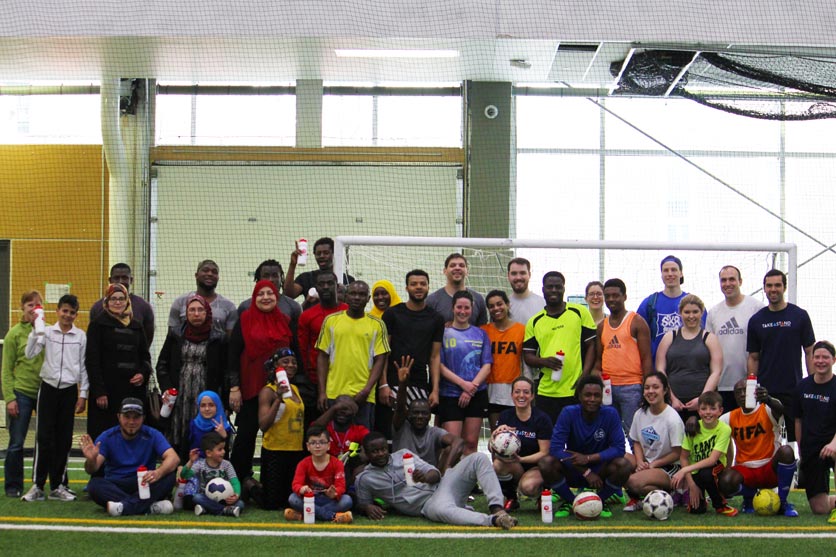 GenNext members from CWB National Leasing, PwC Canada and GenNext Winnipeg Council play soccer with refugees
Ahmed Ossa, a refugee from Ghana, began volunteering at CMWI in December 2016, just a couple weeks after walking over the Canada-U.S. border into Manitoba.
"We had a lot of fun playing soccer," says Ahmed. "We made new friends and got to show them some tricks and how we dribble the ball. It was also important to us that all of the ladies who wanted to play were involved in the games."
Many of the refugee women who played come from countries where it's not customary for women to join men in a soccer game – a barrier that didn't exist this past Saturday when men, women and children hit the field together.
After the game, the players got to share a meal together courtesy of Mona Lisa Ristorante.
"It was great to sit down with everyone afterward," says Ryan. "We got to chat with a woman named Emita who had never played soccer with men until now. It was a big deal for her, but Laurel from CMWI convinced her to give it a try, and she had a great time."
In addition to the soccer game, CWB National Leasing's GenNext pod coordinated an office donation drive for CMWI to help newcomers get settled. The response was overwhelming, with everything from kitchen supplies and small appliances to clothes and diapers.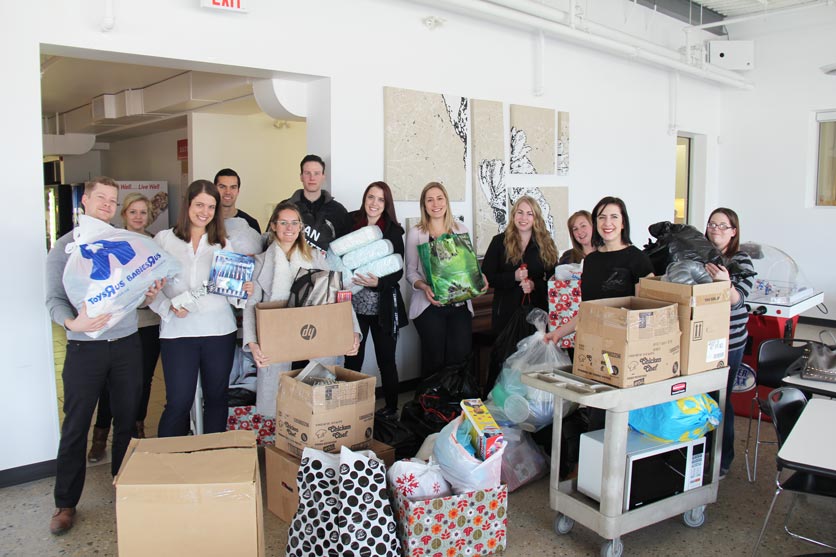 CWB National Leasing's GenNext pod collects donation items for CMWI to support newcomers in need
"After United Way put CWB National Leasing in touch with us, planning was easy; well at least for us it was," says Laurel. "The CWB National Leasing GenNext team arranged everything, including the space at the RecPlex, a delicious Halal dinner, soccer cleats for our players that didn't have shoes and most importantly, a group of friendly people to play with. All we had to do was show up. I can't express how thankful we are for this opportunity during an incredibly busy time."
__________________________________
Thank you for helping CWB National Leasing's GenNext pod support newcomers in need!
Canadian Muslim Women's Institute
Financing made easy.
Contact us and we'll call you right away