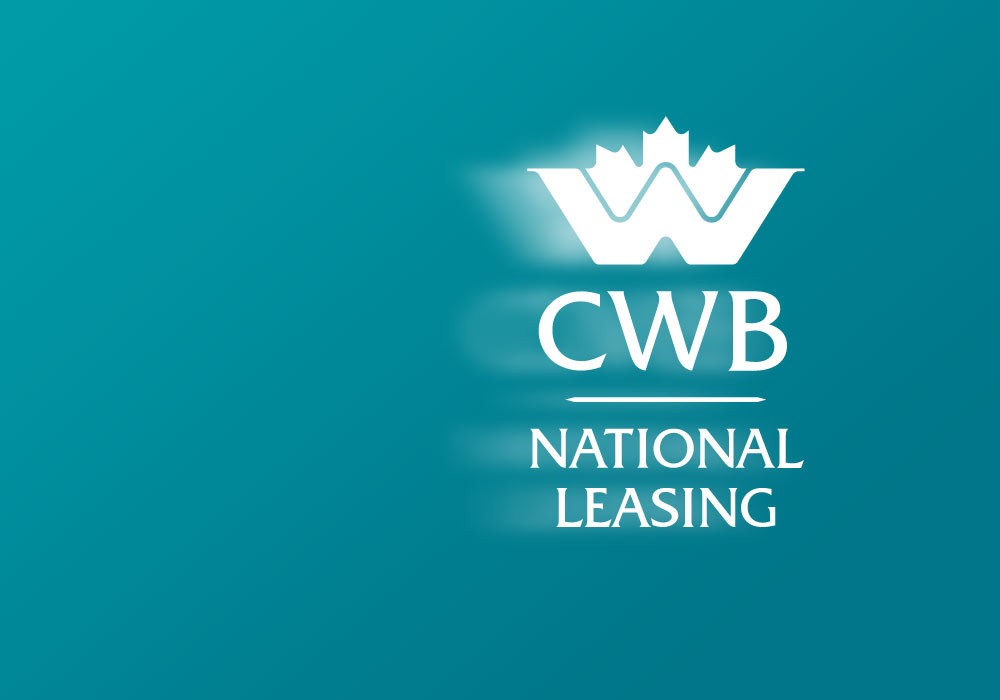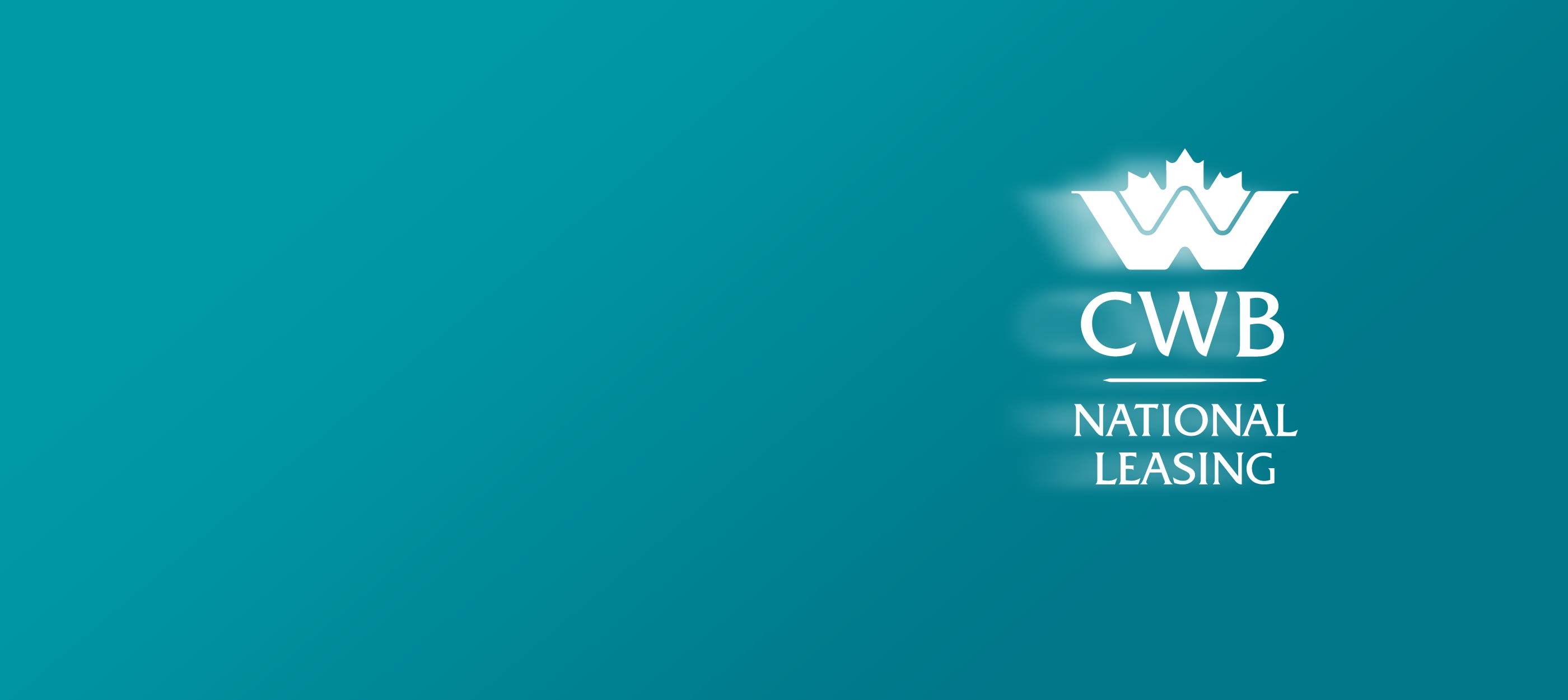 Michael Dubowec named CWB National Leasing President & CEO

By: CWB National Leasing
WINNIPEG, February 15, 2018 – CWB National Leasing, a CWB Financial Group company, is pleased to announce the appointment of Michael Dubowec as its new president and CEO effective March 1, 2018.
This follows the retirement of Tom Pundyk, CWB National Leasing's current president and CEO, who will stay on with the company as an advisor until October 31.
"Michael is an incredible leader within our organization," said Stephen Murphy, CWB's executive vice president of banking. "He has played an integral role in the rapid growth and client satisfaction CWB National Leasing continues to achieve, and has built a reputation for being a fun, smart and creative leader who drives positive change and cares deeply about employees and customers."
"I am very confident that Michael is the right leader to take CWB National Leasing forward during this incredible growth period in our history," adds Pundyk, who has worked alongside Michael for more than 29 years. "His keen ability to build strong relationships puts both our customers and our hard-working, dedicated team in good hands."
Dubowec has held progressive senior leadership roles with CWB National Leasing since 1989, including chief operations officer. He currently serves as senior executive vice-president, while also providing senior leadership oversight for CWB's Broker Buying Centre. This appointment recognizes his considerable contributions over the years.
"I'm very excited for the opportunity to lead CWB National Leasing into the future, and am committed to continuing to focus on quality relationships with our customers, brokers and partners," says Dubowec. "We have great opportunity to leverage the services offered by CWB Financial Group to the benefit of these relationships, and I'm anticipating great success as we continue to find more ways to help our customers grow their businesses. We're also going to continue to build on our long-term growth strategy, which has today earned us more than 70,000 lessee customers, 7,000 active equipment dealer partnerships and more than $2.6 billion assets under management. This makes us the largest and longest running equipment financing company in Canada."
Pundyk's time as president & CEO, since November 2014, has seen many achievements including implementation of a customized core operating system, launch of an online quoting system available to equipment dealers anytime, anywhere, and a number of award wins, including Canada's Top 100 Employers, Canada's 10 Most Admired Corporate Cultures and Manitoba's Top Employers. Tom also played an integral role in CWB's largest portfolio acquisition to date.
"I'm so very proud of what this company has accomplished over the past four decades," added Pundyk. "The team we have here at CWB National Leasing is like nothing else. I want to thank each and every employee for their passion and efforts toward creating the best possible experience for our customers. We've really focused on innovation in our industry, and I do think we're achieving it."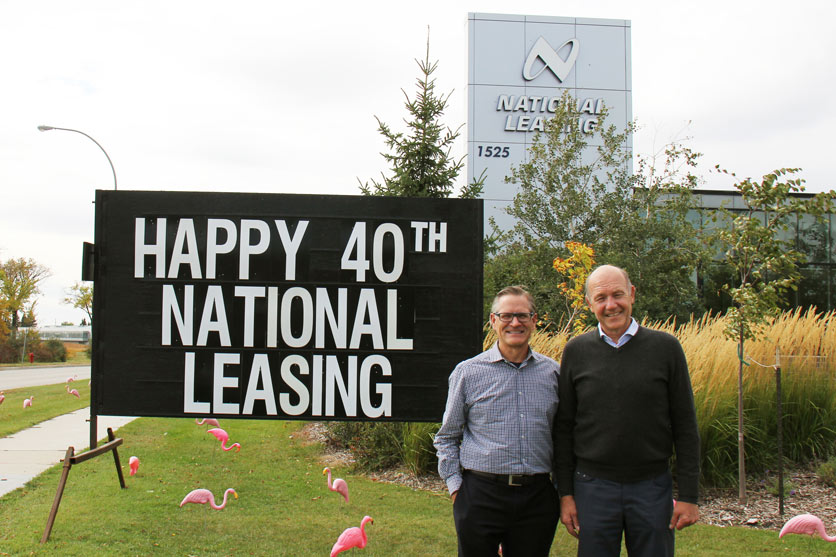 Michael Dubowec (left) with Tom Pundyk celebrating CWB National Leasing's 40th year in business.
About CWB National Leasing
CWB National Leasing, Canada's largest and longest-running equipment financing company, currently helps over 70,000 Canadian businesses secure the equipment they need to help their business grow. We offer a full range of financing services to commercial, agriculture, construction, transportation, forestry, health care, golf and turf equipment sellers. Our 60 sales agents and a broker network across Canada are supported from our head office in Winnipeg, Manitoba. Read other news at www.nationalleasing.com.
About CWB Financial Group (CWB)
CWB is a diversified financial services organization serving businesses and individuals across Canada. Operating from its headquarters in Edmonton, Alberta, CWB's key business lines include full-service business and personal banking offered through 42 branches of Canadian Western Bank and Internet banking services provided by Motive Financial. Highly responsive specialized financing is delivered under the banners of CWB Equipment Financing, CWB National Leasing, CWB Maxium Financial, CWB Franchise Finance and CWB Optimum Mortgage. Trust Services are offered through Canadian Western Trust. Comprehensive wealth management offerings are provided through CWB Wealth Management, which includes the businesses of McLean & Partners Wealth Management and Canadian Western Financial. As a public company on the Toronto Stock Exchange (TSX), CWB trades under the symbols "CWB" (common shares), "CWB.PR.B" (Series 5 Preferred Shares) and "CWB.PR.C" (Series 7 Preferred Shares). Learn more at www.cwb.com.

- 30 -

For further information or to arrange an interview, contact:
Janet Seniuk, Communications Specialist, CWB National Leasing
Phone: 204-954-9000 ext. 2354
Email: [email protected]
Financing made easy.
Contact us and we'll call you right away