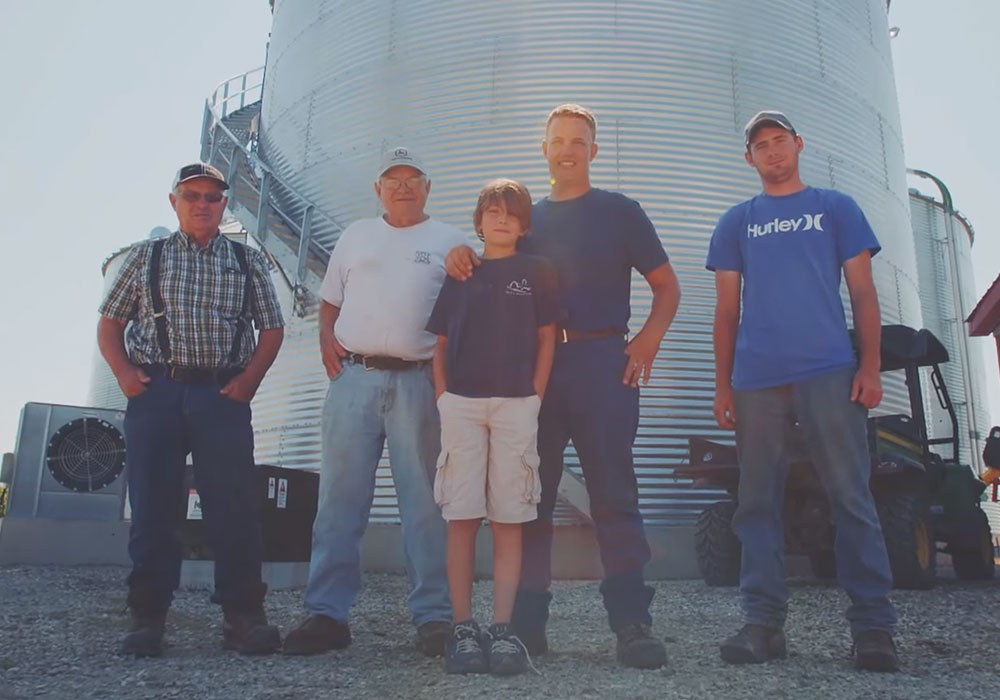 Keeping it simple: how equipment financing helped one family farm
Agriculture sprouted from Dave McEachren's roots.
Dave owns McEachren Farms in Ontario and hails from a family that's farmed in the province over four generations. Dave's grandfather bought 100 acres in 1945 and the operation grew 23-fold since then.
Dave, his uncle and his dad now farm 30 different grain fields on 2,300 acres – nearly 10 times the size of the average Ontario farm.
The McEachrens need to store and dry grain but never had the on-site capabilities; instead, he used a commercial facility that drove up costs.
They explored the possibility of building their own storage facility but faced a choice: use the commercial facility and pay higher costs long term or get their own facility and pay more short term to save down the road. They also worried that securing financing would be difficult given their farm's complex financial situation: all three men technically run three separate operations on their farmland.
After weighing options, the family farmers chose to build their own facility but they didn't want to tie up cash and they needed a finance provider that was as flexible as their dynamic operation. That's when their storage supplier recommended CWB National Leasing Agriculture Account Manager in Ontario Natalee Pollard.
Today, with their grain facility fully operational, we reached out to Dave and asked him to share his 5 takeaways from his financing experience.



Dave's 5 takeaways from his equipment financing experience
1. Greater return on investment
We looked at our acreage and how much grain we planned to harvest and what the commercial and storage costs would be. We crunched some numbers and said, "Wow." Looking at our commercial costs versus doing it on our own – that's how we saw some of those return on investment numbers pop up and it was literally a no brainer.
It was a quick and easy decision. This is what we need to do and we need to pull the trigger on this and make it happen. And the payback on grain storage was very quick. We saw our return on investment within three years.
2. Leasing is simple
We have a very dynamic farm operation. With my dad, uncle and me involved, there are three of us who run four separate business entities within the 2,300-acre family farm. Most financial institutions would require some significant collateral for financing, but that wasn't an issue with CWB National Leasing. Our Account Manager Natalee only needed to see what kind of financial position we were in and we had no trouble providing that documentation.
3. Our Account Manager is knowledgeable
As a newer-generation farmer, I look for every advantage, whether technologically or financially; the older generation sometimes avoids financing, believing it's best to buy.
Natalee came out and sat down with my dad, uncle and me. We were very impressed with her professionalism and numbers that she tossed back and forth to us. She understood farming. She understood grain storage, what that meant and what kind of equipment we were purchasing. We were impressed from the beginning and leasing absolutely fit in with what we were wanting to accomplish.
4. Leasing is fast
We built our site at a very critical time. We planned to start construction during April 2012. We knew by mid to late September we'd be in the fields harvesting, and we needed to be able to put product in the grain storage facility and through the dryer. So that timeline was very important. CWB National Leasing was very good. I was impressed; we all were, by how fast the process was.
5. Leasing is flexible
There are quite a few advantages: taxation wise, cash flow wise and the custom payment plans structured throughout the year. It was very flexible. Whether it's a combine, sprayer, new tractor, planter or grain storage, I definitely recommend CWB National Leasing to other farmers.
Financing made easy.
Contact us and we'll call you right away