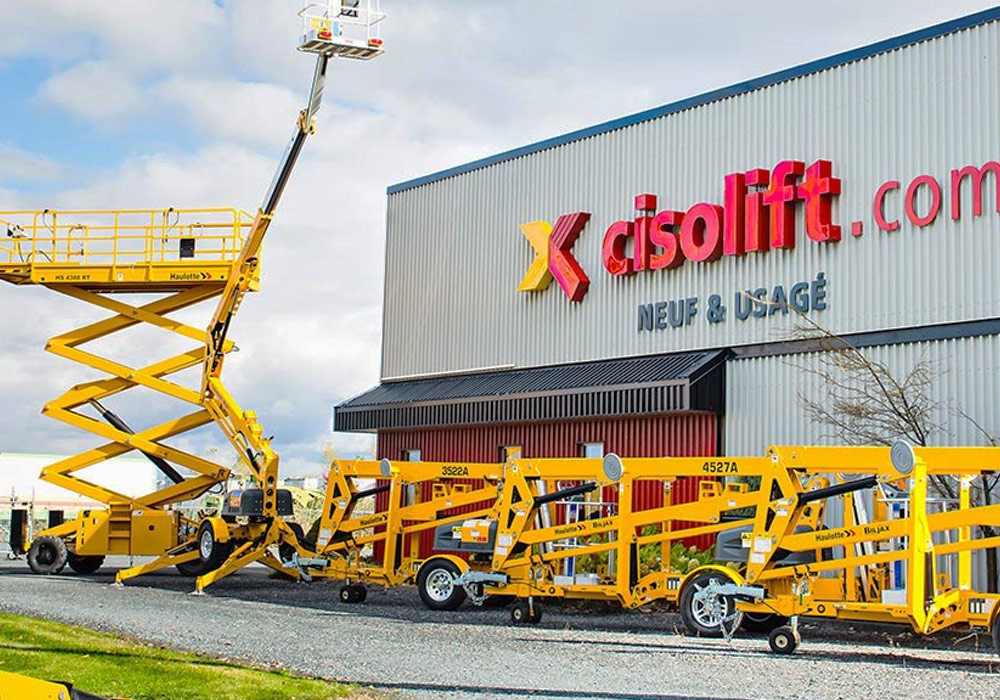 Offering customers more choice: how National Leasing Interactive helps increase sales
Choice is good.
It enables you to research and find the best product for the best value. Choice is especially important for businesses when picking equipment. The wrong equipment choice can tank revenues while the right one can lift a company's profits past projections.
Quebec-based aerial work platform retailer Cisolift Distribution Inc. takes choice seriously. The company stocks its 10,000 sq. ft. facility with so many brands that inventory spills well on to its 100,000 sq. ft. lot. The diversity of lift equipment means Cisolift offers the largest selection of new and used aerial work platforms across Quebec – an advantage that not only draws sales away from the company's competition, but draws sales directly from the competition.
"Most of our competitors rent lifts rather than sell them," said Pascal Leclerc, Cisolift's owner. "Many of those rental stores actually buy from us because of our large inventory selection."
Cisolift's selection isn't the company's only industry-leading characteristic. Its mechanical workshop bolsters the expansive inventory thanks to the security it provides customers. Car dealerships have specialized service centres; Cisolift has a workshop teeming with mechanics that are trained to repair and give second life to every brand of lift the company sells.
So while Cisolift is selling the cow, its competitors aren't getting the milk for free. When these rental companies require repairs, their best option is to bring their lifts to Cisolift.
"Most of the customers have the capacity to fix their lifts but they might not have qualified mechanics like we do. Our suppliers host training sessions for our mechanics," said Pascal Leclerc.
Cisolift's competitor strategy is smart, but selling lifts to rental companies comprises one part of the company's business. Selling aerial work platforms to businesses for operational use generates the rest of Cisolift's revenue. Rather than restrict customers to purchase lifts outright (unaffordable for many), the company offers leasing.. Nearly one-third of the company's customers acquire lifts through leasing, partly because CWB National Leasing Account Manager Carl Morissette cares about Cisolift's customers.
Commited to you and your customers
They're more like a partner than a supplier.
Cisolift mainly offers their customers leasing because they believe the benefits of leasing are far greater than buying a lift outright. Offering leasing options allows Cisolift to make their customers even happier and to close more deals. Both sides of the table benefit.
Sell more equipment
Leasing is a very good selling feature for us.
Carl and CWB National Leasing know how to make the leasing process seamless, and with National Leasing Interactive they're faster and more efficient than ever.
National Leasing Interactive is an online tool for equipment dealers that instantly generates quotes and provides detailed customer reporting. With National Leasing Interactive, Cisolift has simplified the leasing process. Rather than rely on Carl to provide a quote for each customer, Cisolift's sales team can enter the equipment cost, desired financing term length and buyout option and create a quote for the customer on the spot.
"National Leasing Interactive has made leasing easier. I can package quotes with other information like specs and photos of the equipment the customer is interested in." said Jean Laliberté, Cisolift Sales Representative. "The tool is perfect and I use it every day."
Generate quotes and submit applications instantly with National Leasing Interactive.
National Leasing Interactive helps us close the deal right away.
Financing made easy.
Contact us and we'll call you right away